BF Suma Anatic Herbal Essence Soap Products
$300.00 & Free Shipping (Orders above $50)
Benefits of Anatic Herbal Essence Soap
1. Powerful antioxidant.
2. Anti-aging.
3. Good for dark-spots.
4. Improves capillary blood circulation.
5. Moisturize your skin during shower.
6. Protects against skin diseases.
7. Collagen synthesis.
8. Improves skin texture (keeps skin soft & tender)
9. Have good effect for delicate skin.
10. Deodorant effect.
11. It restrains melanin.
12. Protects your complexion.
13. Gives you an attractive light fragrance.
14. Keep skin shinny and soft.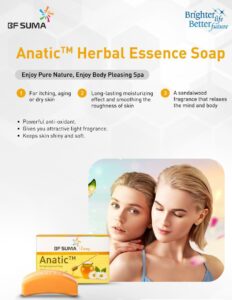 Free shipping on orders over $50!
Satisfaction Guaranteed
24 hrs Delivery
Secure Payments
Description
BF Suma Anatic Herbal Essence Soap Products
Only logged in customers who have purchased this product may leave a review.